We are honored to be partnered with the following organizations in 2017
Africa Development Promise – ADP envisions flourishing rural communities across Eastern Africa where women can contribute their creativity, innovation and hard work to bring prosperity and economic independence
Akili Dada – Akili Dada is an international award-winning leadership incubator cultivating transformative leadership in a generation of young African women.
Creative Action Institute – CAI works at the intersection of creativity and social change.  Building the capacity of leaders and organizations for innovation, collaboration and resilience to advance conservation, health and human rights globally.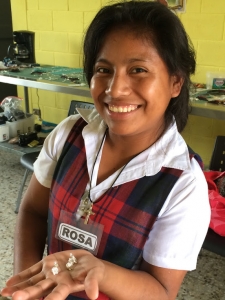 Gracia – Gracia envisions a better world for girls and young women in Guatemala:  a future where each woman has economic opportunity and a recognized voice in her home, her workplace, and her community.
Heshima Kenya – HK specializes in identifying and protecting unaccompanied and separated refugee children and youth, especially girls, young women, and their children living in Kenya.  Shelter, education, and community outreach services, couple with local resources and the refugee community, empower this population to live health lives.
Kibera Girls Soccer Academy – KGSA is dedicated to improving the lives of at-risk and disadvantaged young women by providing free secondary education, artistic programming, and athletic opportunities in the slums of Kibera, Kenya.
Komera – In Rwanda, "Komera" means "be strong, have courage."  Komera develops self-confident young women through education, community and sport.
Northern Kenya Fund – NKF supports deserving and high achieving Northern Kenyan students in attending secondary and university level schools.  The fund places an emphasis on providing scholarships to female students since they have fewer opportunities to attend secondary school and beyond.
Nurturing Minds – The SEGA Girls School is a residential secondary school for bright motivated Tanzanian girls who otherwise are unable to attend school due to extreme poverty.
Street Business School – Tested and effective, Street Business School combines business training and mentoring in a world-class program to empower women to launch new business, increase their income and transform their lives.
Sustainable Health Enterprises – A social venture in Rwanda that invests in people and ideas that are typically overlooked (and often taboo), as vehicles of social and economic change.  SHE is helping women jumpstart social businesses to manufacture and distribute affordable menstrual pads.  Coupled with health education and advocacy, girls and women will have even more productive lives than before.
Xela Aid – Empowering children and their families in the highlands of Guatemala, to break the cycle of poverty and to become healthy, educated and self reliant.
Young Dreamer Network – to empower teens to become difference makers both locally and globally.
A Leg to Stand On – Bringing free orthopedic care to children in the developing world whose families are unable to afford treatment.
Cielo de Amor – Improving the quality of life for youth with disabilities in Nicaragua by providing education, physical therapy, adaptive equipment, and trainings to parents and staff.
Karagwe Community Based Rehabilitation Program – Ensuring that people with disabilities and most vulnerable groups in Tanzania are respected in the community through advocacy of their rights, rehabilitated through physiotherapy and community health care, trained through provision of equal opportunities, and self-reliant through establishment of income generation activities.
The Komera Center – Supporting over 140 children with disabilities in Rwanda.
LIMBS International – Committed to designing and developing affordable, high quality prosthetic solutions for the millions of amputees throughout the developing world who would normally never have access to prosthetic technology, let alone be able to afford them.
The Action Foundation – A youth led center in Kibera slum supporting services for children with disabilities and their caregivers.  Believing in a Kenya where children with disabilities have equal opportunities to succeed.
Transitions Foundation of Guatemala – Mobilizing Guatemalans with disabilities through health, rehabilitation, education, spiritual development, leadership skills, social integration and employment.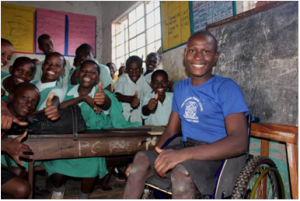 Youth With Physical Disabilities Development Program – Changing the lives of children with disabilities in Uganda by: providing appropriate wheelchair technologies; advocating for their rights and inclusion in society; igniting self-reliance through income generation opportunities; promoting inclusive education for all.