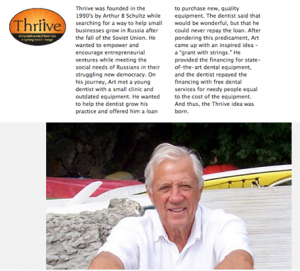 Hello!
We'd like to launch our grantee highlights with our largest grantee – Thriive – and the inspiration for it all, our Chairman Emeritus, Arthur B. Schultz.
And a note from our Executive Director, Rachael Richards:
Thank you to this remarkable visionary for shaping core values in my own life. He has taught me the value of giving back to one's community (near or far… whatever inspires you), and giving what you can – be it time or resources. I strive to instill this value of giving in my children and am forever grateful to Arthur B. Schultz for his incredible generosity and vision that has made waves across the globe.
To learn more about Thriive please visit www.thriive.org