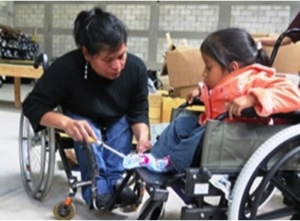 With the Letter of Inquiry (LOI) season approaching on September 1st we'd like to share some of the driving factors that determine our grant giving.
The Arthur B. Schultz Foundation is a small family foundation and in an effort to maximize our grant giving – to – impact ratio we've developed a clear vision that recognizes two main priorities: Disabled Mobility and Women's Empowerment.  Within these broad categories we have identified areas of emphasis that we have learned translate into thriving communities and sustainable lives.
In this first blog post of a series we would like to highlight a staggering statistic that suggests "90 to 98% of children with disabilities in developing countries do not attend school" (UNESCO). And to put that into perspective of the larger world population, "20% of the world's poorest people have some kind of disability" (The World Bank).
ABSF addresses this inequity by supporting programs that specifically focus on Disabled Mobility. One such program that we've had a wonderful long term relationship with is Hope Haven International (HHI). In the early 1990's they recognized that the needs of those living with a disability in developing countries without roads or sidewalks, without regular access to transportation, healthcare services or medical equipment were overlooked and not protected under the law. Frequently, people with disabilities go without education or access to employment and become targets for crime and maltreatment.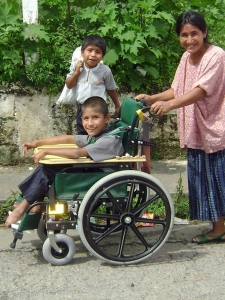 At one of their wheelchair manufacturing and distribution centers in Antigua, Guatemala, Refugio de Esperanza, they employ 18-20 people with disabilities. For many of them, this is their first opportunity to learn job skills and earn a wage for their family. The employees are trained to operate the machinery, specifically designed for those in a wheel chair, with assistive technology and are educated on the manufacturing process for building the KidChair. The Hope Haven KidChair has evolved into a seating system that provides orthopedic support while also growing with the child. It meets the needs of almost any child who requires wheelchair mobility while living in demanding, developing world conditions.
Many of the employees are trained to help fit each recipient properly in their wheelchair. They're able to use their life experience of living in a wheelchair to educate the new wheelchair recipients and their families – how to deal with pressure sores, urinary tract infections, proper transferring techniques, implement physical therapy exercises, etc.
Refugio de Esperanza is extremely progressive in supporting their employees beyond the traditional work day by taking them on trips to the pyramids among the dense forest in Tikal and encouraging physical activity by maintaining a highly competitive basketball team, all in wheelchairs. Our own Chairman of the Board, Erik Schultz, was fortunate to join the employees in a pick-up basket ball game during a site visit in 2014.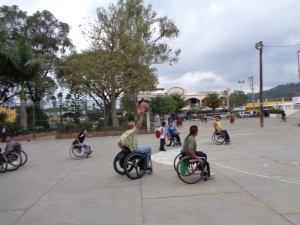 For more information on Hope Haven International and their affiliates please visit:
http://www.hopehaveninternational.org/