Letter from the Chairman of the Board, Erik B. Schultz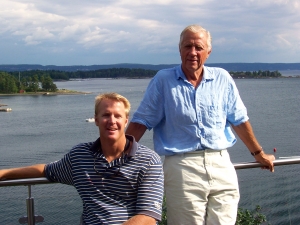 The year 2014 marks a time of transition for the Arthur B. Schultz Foundation. Started by my father Arthur B. Schultz in 1985, ABSF first became a staffed foundation in 1998 with an expanded board of directors including non-family members. In our early days we focused on supporting educational and entrepreneurial initiatives, disabled mobility and independence, and environmental conservation. All of these early grantmaking programs evolved into much more focused initiatives both within and outside of ABSF.
Inspired by my 1998 spinal cord injury, ABSF took up the cause of promoting disabled mobility and independence both here and abroad. The lack of accessibility and opportunities for physically disabled individuals in the developing world and my own experience with paralysis led us to focus exclusively on providing quality, technologically appropriate wheelchairs for disabled individuals who otherwise could not hope to attain them. In Vietnam, we partnered with an American designer and a local wheelchair manufacturer to design and build the rugged and durable RoughRider wheelchair for free distribution in Vietnam and across the developing world, giving thousands the gift of expanded mobility and independence. This remains a core value and vision of ABSF–that greater independence for disabled individuals begins with quality mobility. We also believe that wheelchairs are best built and repaired in-country, creating additional employment opportunities for the same people that use them.
Honoring my father's belief in compassionate capitalism, in 2000 ABSF envisioned and created a project by which developing world small business entrepreneurs could get interest-free loans to grow their businesses, and repay those loans not in cash, but rather by donating an equivalent value of products or job training to the poor in their communities. This was a true pay-it-forward concept before the term became popular. In 2010, the success of this program led us to spin it off into an independent operating foundation called Thriive. In partnership with local NGO's assisting small enterprises, today Thriive supports hundreds of socially-responsible small businesses who in turn serve hundreds of thousands of people in need across global programs in Vietnam, Kenya, Palestine, and Nicaragua.
Our early support of environmental conservation in the western U.S. focused on a variety of landscape and wildlife conservation efforts, a passion formed by several board members' transformative experiences in American wilderness areas and national parks. In 2008, ABSF transformed this grantmaking program into an independent foundation called Confluence Fund to specifically focus on conservation of the wildest remaining alpine landscape on the planet, the Yellowstone to Yukon region of the western U.S. and Canada.
Our newest grantmaking priority acknowledges the lack of opportunities for women in the developing world, and the deficit of women leaders across a wide spectrum of fields. We believe a better future hinges on empowering women worldwide to play an equal role in their communities, institutions, business, and government. This will not happen without vastly expanded advocacy and support for women's equality and opportunity across many borders and cultures. After some years of initial exploration as to where our small foundation can have the greatest impact, ABSF now focuses support on young women's educational and leadership initiatives, as well as entrepreneurial financing and other assistance. We intend to contribute long-term to empowering the next generation of women leaders in business and civil society.
As our first Executive Director, I'm proud of how I helped ABSF mature as an organization over the last 15 years in pursuit of achieving greater results. I am now pleased to announce I've handed over the keys to my longtime colleague Rachael Richards, who is now our second Executive Director after serving on staff and board for many years. I step aside in full confidence Rachael will put her own stamp on our foundation's evolution by continuing to creatively enhance ABSF grantmaking in advancing new opportunities for entrepreneurs, women, and disabled people worldwide.