Our Story.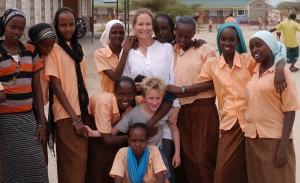 Thirty years ago, successful entrepreneur and businessman, Arthur B. Schultz, made a decision to use his resources to make a more lasting, positive influence on the societies and issues which had influenced his life. Hence, the Arthur B. Schultz Foundation was established. Early on, ABSF funded initiatives focused on education and entrepreneurship, global understanding, disabled recreation and mobility, and environmental conservation. Over the years, priorities have shifted, new foundations and organizations have been formed and ABSF has narrowed its focus to women's empowerment and mobility solutions. This allows us to focus specifically on helping to improve the dignity of people living in the most challenging situations.
In 2015, we've been thrilled with the work our grantees have accomplished. To name a few: Akili Dada supported 49 Secondary School Scholars and 15 Fellows who directly impacted 1,850 high school girls and community members; Asante Africa trained 2,000 teachers in Tanzania and achieved a 100% graduation rate for their scholars; Komera has launched a successful new program supporting adolescent girls graduating from secondary school; Livelyhoods has distributed over 5,000 clean cookstoves in Kenya, generating $200,000 in sales revenue. The Northern Kenya Fund has sent 4 girls from the North Horr Secondary School to obtain teaching degrees in Nairobi – they will go on to teach in their communities. The Action Foundation now has a paved road just outside their Treatment Center in the Kibera slum and has tripled the number of disabled children and families it serves, and Miraclefeet identified and treated over 319 children with clubfeet in Iringa and Arusha, Tanzania. The stories go on and on…
In July 2016, we received midterm reports from our current grantees. Some of the highlights include:
Africa Development Promise women's farming cooperatives have bought a new greenhouse and, for the first time since inception, made $5,000 in sales for their tomatoes and peppers; 30 new young women started in year 2 of Komera's Post Secondary Transition Program; 100 LIMBS legs have been provided to 100 amputees in Guatemala and El Salvador. The accomplishments of ABSF's grantees are all impressive. We are humbled by their incredible work, changing the lives of people around the globe.
2016 marks our third year of tracking and evaluating the impact of our grantmaking on the people and communities we serve. The data help us to further inform our grantmaking and ensure we are making informed and intelligent decisions. We couldn't be more proud of the work carried out by our current grantees, and we hope you enjoy learning more about them in the Grantee Profiles section of our website. We are excited for the upcoming year and the possibilities for supporting more amazing organizations and helping to facilitate connections between them.
Sincerely,
Rachael K. Richards
Executive Director
The Arthur B. Schultz Foundation